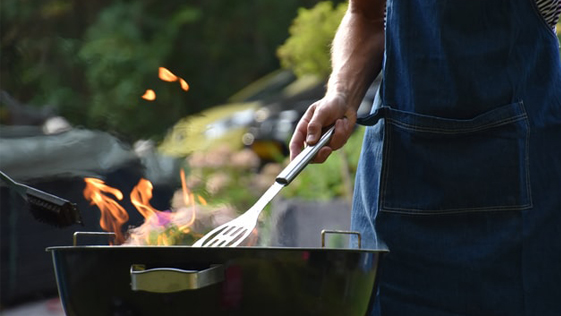 27 Oct

WHAT'S THE BEST WAY TO CLEAN MY GRILL GRATES?

GRILLING 101: THE EXPERTS' GUIDE TO THE PERFECT BBQ

October 18, 2021 Maria Jose Meneses

There are many ways and tools to clean your grill grates but the best way is to use a safe bristle-free alternative and to do it frequently – cleaning before every cook.  At the beginning of the grilling season, it is a good idea to give your grill a good thorough cleaning inside and out to improve cooking performance. Check your owner's manual but it is a good idea to start by removing the grates and give them an overnight soaking in warm soapy water (for cast iron grates just rinse with warm water to avoid rusting) and then for gas grills remove all burnt residue under your burners and clean or replace your grease drip tray.  Then for everyday regular cleaning, it is best to use a bristle-free tool like the Q-Swiper BBQ Grill Cleaner before every cook to ensure your cooking surface is free of any potential dangerous steel wire bristles. 

These wire bristles can get dislodged and attach to food and then swallowed, which might lead to a visit to the emergency room. Treat your grill grates no differently than stovetop cooking and ensure the grates are clean before you begin your grilling. Cleaning right before you cook with a clean tool or grill cleaning wipe will ensure that no grease, grime, or insect messes are left on the surface. It's a good idea to first scrape off any leftover burnt food residue then clean in between the grates and then clean the top surface in the direction of the grill grates. Follow these simple steps for a safer, cleaner, and healthier way to clean your grill and enjoy better-tasting food!