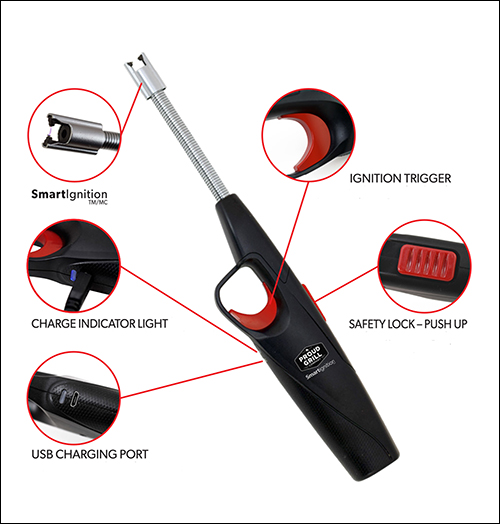 Directions for Use:

Read all warnings below.
Charge the Lighter with the included micro USB cord into any USB port for2 hours or until the side blue power button is off. Charge prior to first use.
Bend neck to desired position. To ignite push the red safety lock up while pushing the red trigger at the same time. To turn off release trigger.
The ignition will also shut off after 10 seconds of holding both the trigger and safety release.
After use store in a safe place out of reach of children.
Recharge when battery is low or at least once every 6 months, do not overcharge.
WARNING :
KEEP OF REACH OF CHILDREN
RISK OF BURN OR INJURY; KEEP HANDS AND BODY PARTS AWAY FROM TOP IGNITION
KEEP AWAY FROM FACE, CLOTHING AND OTHER COMBUSTIBLE SURFACES
DANGER: FLAMMABLE: DO NOT EXPOSE TO TEMPERATURES OVER 49⁰C (120⁰ F) OR LONG PERIODS OF SUNLIGHT
DO NOT EXPOSE LIGHTER TO OPEN FLAME
DO NOT OVERCHARGE (MORE THAN 5 HOURS) OR USE WHILE CHARGING
DO NOT INSERT OBJECTS IN THE OPENING OR DISASSEMBLE THE LIGHTER